Merewether Daycare & Preschool has been thriving since 2009. In mid 2012 we relocated from an inner city terrace to an architecturally designed, purpose built boutique centre located 10 minutes from Merewether.
What We Offer
Operating 7.30am to 5:30pm weekdays
Educator picks up & drops off your child from your home
Pay only the gap as CCS paid directly to centre
Unique state of the art architectural facility
Set on a third of an acre of bush outdoor play
Excursions twice weekly for each group
Small group learning
Highly qualified & experienced staff
Boutique centre with 20 children & 5 full time staff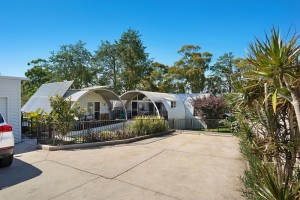 Ages, Groups and Teachers
We take children from 6 months old and they leave us at the end of the year in which they turn 5 years of age. They are then ready for Primary School. Vacancies are filled giving preference to a child of the current cohorts age, to ensure they have peers as playmates, not necessarily in order of the waiting list.
Preschool 3-5 years: The children in the 3 – 5 year age group are with a highly qualified bachelor of Early Childhood teacher. We believe in small groups to ensure a much higher quality of care and education. Additionally, the children are able to attend German, Montessori and Yoga throughout the week.
Daycare 6 months – 3 years: Children are in two groups; 2-3 year olds and 6mths-2yrs. We have an extra educator to assist to assure quality care.
We don't use untrained trainees to prop up our ratios or casual staff to replace staff off the floor when undertaking programming and documentation. We work with new parents to slowly integrate babies. The integration program ensures parents and the child have a positive experience settling into daycare/preschool, building up from short dual visits gradually increasing times of separation towards building a strong bond with the other children in the group and the educator/teacher.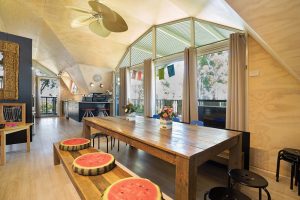 Facilities
Merewether Daycare & Preschool has been thoughtfully designed to reflect rooms of a home away from home where small groups of 4-6 children can be educated. The purpose built centre has passive solar with more energy placed onto the grid than taken off. Double glazing windows with flow through ventilation, high ceilings and exquisite fans keeps rooms at the perfect temperature all year round.
Development & Educational Programs
The focus with the children is on confidence, etiquette, compassion, rights/responsibilities, learning through play and being prepared for 'big school'. The key characteristic for a child to cope with life-learning is to instil in their early formative years of learning, confidence, a curious mind, and a willingness to persist.
"Play is the highest form of research" (Albert Einstein).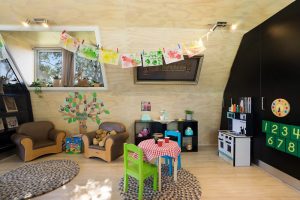 Parent Information
We create a daily diary of your child's little group and send this to you so you can be part of your child's day. Diaries indicate how the activity on that day is part of the Early Years Learning Framework developed for child care centres across Australia as a curriculum guide. Regular observations are sent to parents of their child's progress and the program, which will give you ideas of what you can reinforce/play at home. A beautiful colourful Annual Portfolio of your child is printed each year and provides a treasured keep me sakes of your child's early years. Monthly get togethers are arranged where you can catch up with other families, check on your child's development milestones and/or learn about school readiness.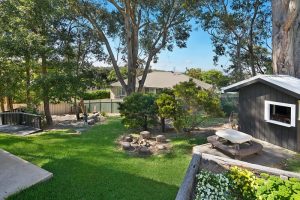 Child Psychology: Emotional and Social Wellbeing
Here children are treated with respect and their individuality is recognised and valued. We provide an environment reflecting qualities of consistency, harmony, affection, fairness, warmth and sensitivity. Behaviour management strategies that are used, guide children to recognise, manage and learn from their behaviours and express their emotions in positive, non-threatening and productive ways.
We believe in ensuring your child has a strong sense of belonging to the Merewether Day Care Boutique Long Day Care & Preschool community. As part of this, each child is provided with their own roll out Pilanky. Children are also given a centre bag that is as individual as each child! Additionally, in the interests of not only adding to a sense of belonging but also caring for our planet, we don't use paper towels but each child is provided with their own special hand towel to use in the bathroom. Lunch bags and containers are also provided as part of your starter package! We give that extra attention to detail that you'll come to expect in this boutique centre that is unique in Newcastle and Lake Macquarie.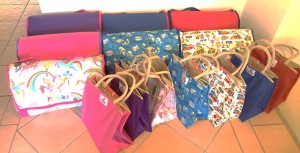 We all know it takes a village to raise a child and so the Merewether Day Care Community has social gathering to extend the child's friendships outside of the centre. Many of our parents friendship circles for primary school have started here!
Vehicles
Children are picked up and delivered from your home in a VW Caddy and taken to the 1/3 acre grassland/gums, purpose built home away from home children's paradise! We use these vehicles to take the children on excursions to places such as, the library, art gallery, café, watching tug boats, parks etc. This all helps create a memorable childhood for your child with their little friends and wonderful educator.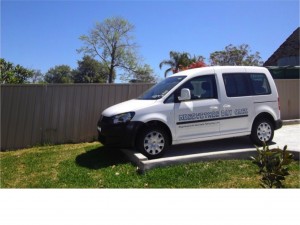 Merewether Day Care Boutique Long Day Care & Preschool is part of an accredited scheme that allows government child care subsidy.